NetNewsWire for Mac and iOS
NetNewsWire is a free and open source RSS reader for Mac and iOS.
NetNewsWire shows you articles from your favorite blogs and news sites — and keeps track of what you've read.
It's like podcasts, but for reading.
If you've been going from page to page in your browser looking for new articles to read, let NetNewsWire bring them to you instead.
If you've been getting your news from Facebook and Twitter — with their ads, algorithms, and user tracking — get your news from your favorite sites directly, and more reliably, with NetNewsWire.
Take back control of your news. And have fun doing it! 🐣🐥
Download NetNewsWire for Mac
Free! Requires macOS 10.15 or newer
Download NetNewsWire for iOS on the App Store
Free! Requires iOS 13 or newer

"It is fast, small, and remarkably stable. It looks and feels and acts exactly how a modern Mac app should — and at the same time it feels and acts exactly like the NetNewsWire of a decade ago."
John Gruber, Daring Fireball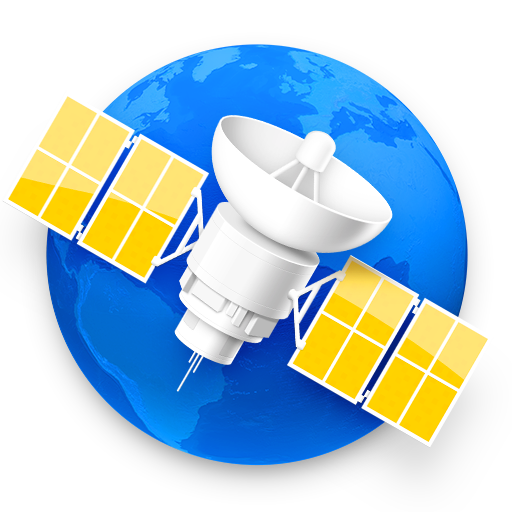 NetNewsWire for Mac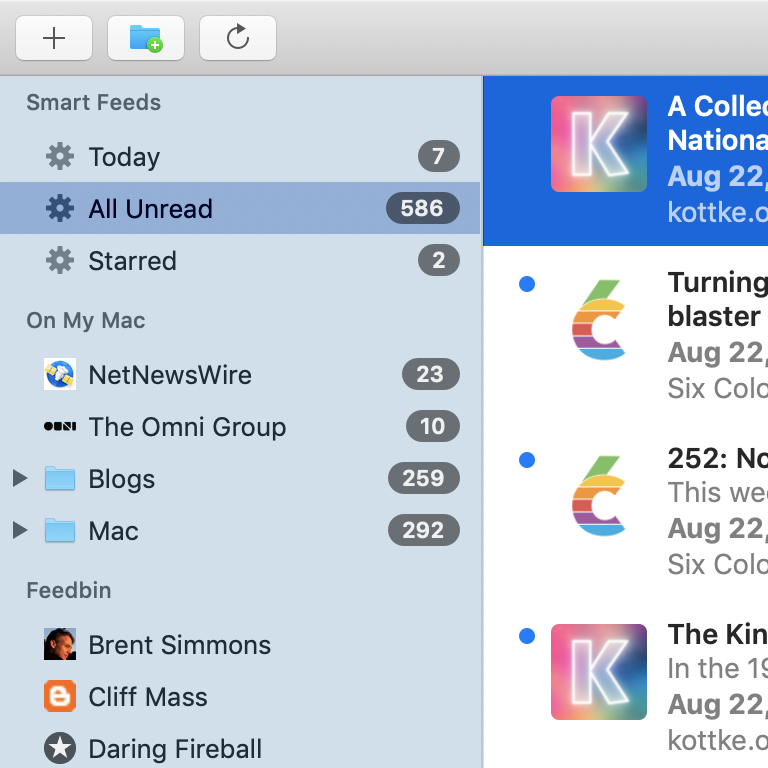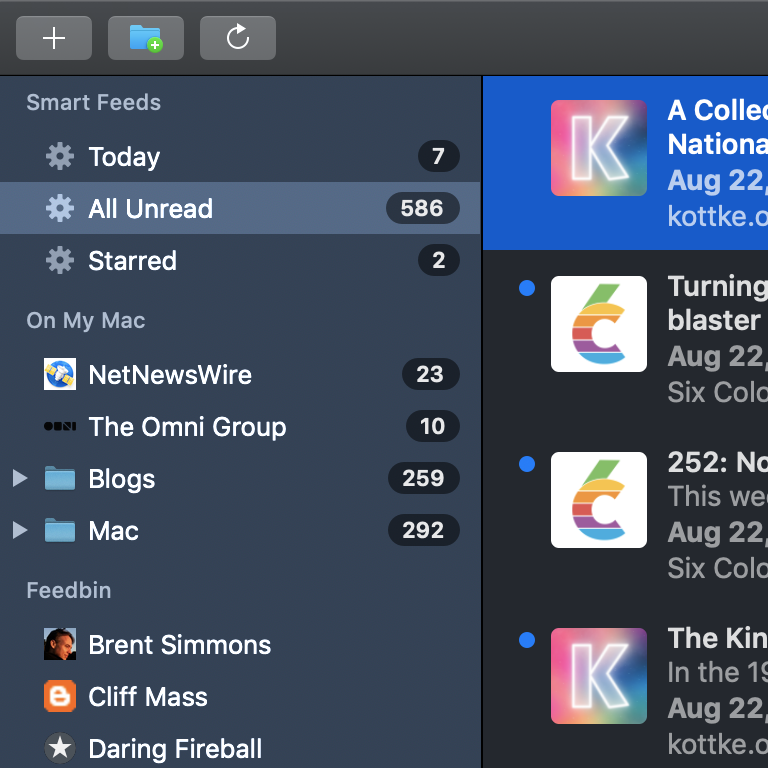 Features
Safari extension for easy feed-adding
Direct feed-downloading
Syncing via Feedbin and Feedly
Reader view
Sharing to Mail, MarsEdit, Micro.blog, Notes, Messages, and so on
Easy keyboard navigation
Single-key keyboard shortcuts
AppleScript support
Dark Mode
Starred articles
All Unread and Today smart feeds
Hiding read articles and read feeds
Folders
Background refreshing
Importing and exporting OPML feed lists
Searching
Multiple accounts
Customizable toolbar
Support for multiple windows
Check out the Help book to learn more about how NetNewsWire works.
Or just download it and get started. It's easy!
"I've been using NetNewsWire on my iPhone and iPad for months now and I adore its simplicity, clarity, and speed."
Nick Heer, Pixel Envy
NetNewsWire for iOS
Features
Direct feed-downloading
Syncing via Feedbin and Feedly
Multiple accounts
Dark Mode
Reader view
Share sheet
Starred articles
All Unread and Today smart feeds
Folders
Importing and exporting OPML feed lists
Background refreshing
Searching
Hiding read articles
Timeline customization
Keyboard shortcuts
Context menus
Support for multiple windows
Three-pane view on iPad
Read the NetNewsWire for iOS Help book to learn more about the app.

Download NetNewsWire on the App Store
Free! Requires iOS 13 or newer
"NetNewsWire is now my go to RSS Reader of choice on the iOS. I was truly amazed how accessible this app was right out of the box on its opening day."
Reviewer on AppleVis
Our App Philosophy
We believe that apps should never crash. They should be free of bugs. They should be fast — they should feel lighter-than-air.
We believe that quality is more important than just piling on features; we believe that quality is the most important feature. And we believe that high quality is transformative — it makes for an app you never hesitate to reach for. You can rely on it, and you do, again and again.
This makes us slow to add features. We are adding features — but never at the expense of how it feels. Never at the expense of reliability and speed.
"Everything about NNW 5 is lightning fast and I haven't found a single crash in my use so far."
Josh Ginter, The Sweet Setup
Community and Support
NetNewsWire is open source and made by volunteers. We don't have a dedicated support line. You can email brent@ranchero.com, but this is probably the slowest way to get help.
Your question might be answered on the Frequently Asked Questions page. If it's not answered there, it might be answered in the online Help book. It's also possible that it's in one of our Technotes.
You should definitely consider joining the NetNewsWire Slack group. You can ask questions there — and also help us think things through as we talk about future versions. It's the home of the NetNewsWire community.
You can make feature requests and add bug reports to our bug tracker on GitHub.
To keep up with NetNewsWire news, read the blog (it's a default feed for new users).
"As of version 5.0, it's still fairly minimalist in terms of features but has a lot of momentum and a passionate community behind it, which in this case has proven more valuable towards ensuring its future."
Sarah Gooding, WordPress Tavern
Contributing
We welcome contributors! Contributions don't have to be code. Just getting on the Slack group and talking things over is a contribution.
The list of major contributors, after Brent Simmons, includes Maurice Parker, Brad Ellis, Nate Weaver, Kiel Gillard, Andrew Brehaut, Olof Hellman, Daniel Jalkut, Ryan Dotson, Joe Heck, and more. Your name could be on that list!
Also see How to Support NetNewsWire. Spoiler: don't send money. 🐯
"The time and hard work by Simmons and other contributors to the open-source project are apparent. NetNewsWire 5 is a thoughtfully-designed, fast app with powerful search."
John Voorhees, MacStories
Why Write an RSS Reader
We support the open web. The big social networking sites are damaging society and eroding democracy — and we believe one of the ways out of this is to get our news via the open web rather than from Twitter and Facebook.
NetNewsWire is part of repairing the web we lost, and it's part of building the web we want. That future web should not include viral hate speech, abuse, massive corporate surveillance, or successful influence operations by hostile governments and entities opposed to democracy.
NetNewsWire isn't the answer — it's an answer. It's just a small part of what needs to be done. But it's the work we personally know how to do, so we do it.
We also love high-quality Mac and iOS apps, and we hope that NetNewsWire will be an example. The code is available for anyone to learn from and use. We believe it's one of the largest open source projects written (almost entirely) in Swift.
"NetNewsWire coming back to the scene is an important and notable step for the revival of the RSS ecosystem as we once knew it."
Akshay Pathare, Beautiful Pixels
NetNewsWire Users Speak
"Loving the NetNewsWire app."
- Jose Feria on Twitter
"Qué hermosa es la interfaz de NetNewsWire. Bellísima."
- Victor Bautista  on Twitter
"NetNewsWire was the very first RSS reader I used on Mac OS X, and set the standard. I'm thrilled to be able to use it once again almost two decades later. RSS isn't dead, and neither is the Mac's best RSS reader!"
- Paul Kafasis, CEO, Rogue Amoeba
"For 15 years, NetNewsWire has been my primary tool for navigating the broad spectrum of blogs, newspapers, magazines, and other publications that I want to keep up with on the web. I'm so excited to see it revitalized with version 5.0. Here's to 15 more years of NetNewsWire and the open web!"
- Daniel Jalkut, MarsEdit developer
"I've used different versions of NetNewsWire over the years but this one is my favorite. Like a whiskey that mellows with age, NNW has continued to exceed my expectations. You'll find delight in the speed of the app, the attention to detail in the interface, but most of all, the freedom to read the web the way you want to from a native application. Crafted by individuals, NNW remains in my 'top 10 apps' to install on my Macs."
- Steve Kirks
"NetNewsWire is back! It feels just as cool and fast as it did in 2003, but not even remotely out of place on a modern Mac. In fact, it's a shining example of what an app should be on the Mac. It's lightweight, powerful, and respects my time. I truly do not want to get my news any other way."
- Brian Warren, creator of macopenweb.com
"Each major new version of an app is an opportunity to refocus, and NetNewsWire 5.0 prioritizes all the right things: it's fast, embraces the open web, and feels at home on the Mac. NetNewsWire 5.0 takes everything Brent learned from previous versions, but rebuilt from scratch with modern features like Feedbin syncing, Dark Mode, and JSON Feed support."
- Manton Reece, creator of Micro.blog
Other Links
NetNewsWire History
Old Versions of NetNewsWire
inessential.com - Brent's blog
NetNewsWire on Twitter (yes, we know how that looks, but we're pragmatic)
Open web friends:
MarsEdit
Micro.blog
Overcast
Feed Compass
macopenweb.com (includes a list of other good RSS readers)